Philanthropy
"Freely you have received, freely give." Matthew 10:8
VBCBA is committed to giving back to the community of its financial resources. Since 2004, VBCBA has donated over $225,000 to local Christian nonprofits.
In December 2021, VBCBA disbursed funds to the following organizations (pictured at right):
(Seated): Kenya Reinhardt of 4Kids Treasure Coast; Jacqueline Herron Whitfield of Safe Families for Children; Jennifer Graves of The Buggy Bunch; Kenya May of Feed the Lambs; Billie Jo D'Ambrosio of Hungry Hearts Outreach Ministries; Carol Pinder of Dasie Bridgewater Hope Center; Bonnie Martinelli of Care Net. (Standing): Michael Davis of St. Vincent de Paul Thrift Shop; Diane Ludwig of Women's Refuge; Captain Ryan Meo of The Salvation Army; Jason Honeycutt of Dynamic Life Recovery Community; Libby Sanderson of Youth for Christ; Don Burzynski of CrossLife Counseling; Robin Herrow of The Source; Dale Glading of Risk Takers for Christ; Bill Motta of Victory Kids; Joe Moore of Fellowship of Christian Athletes. Also receiving funds but not pictured: Master's Academy.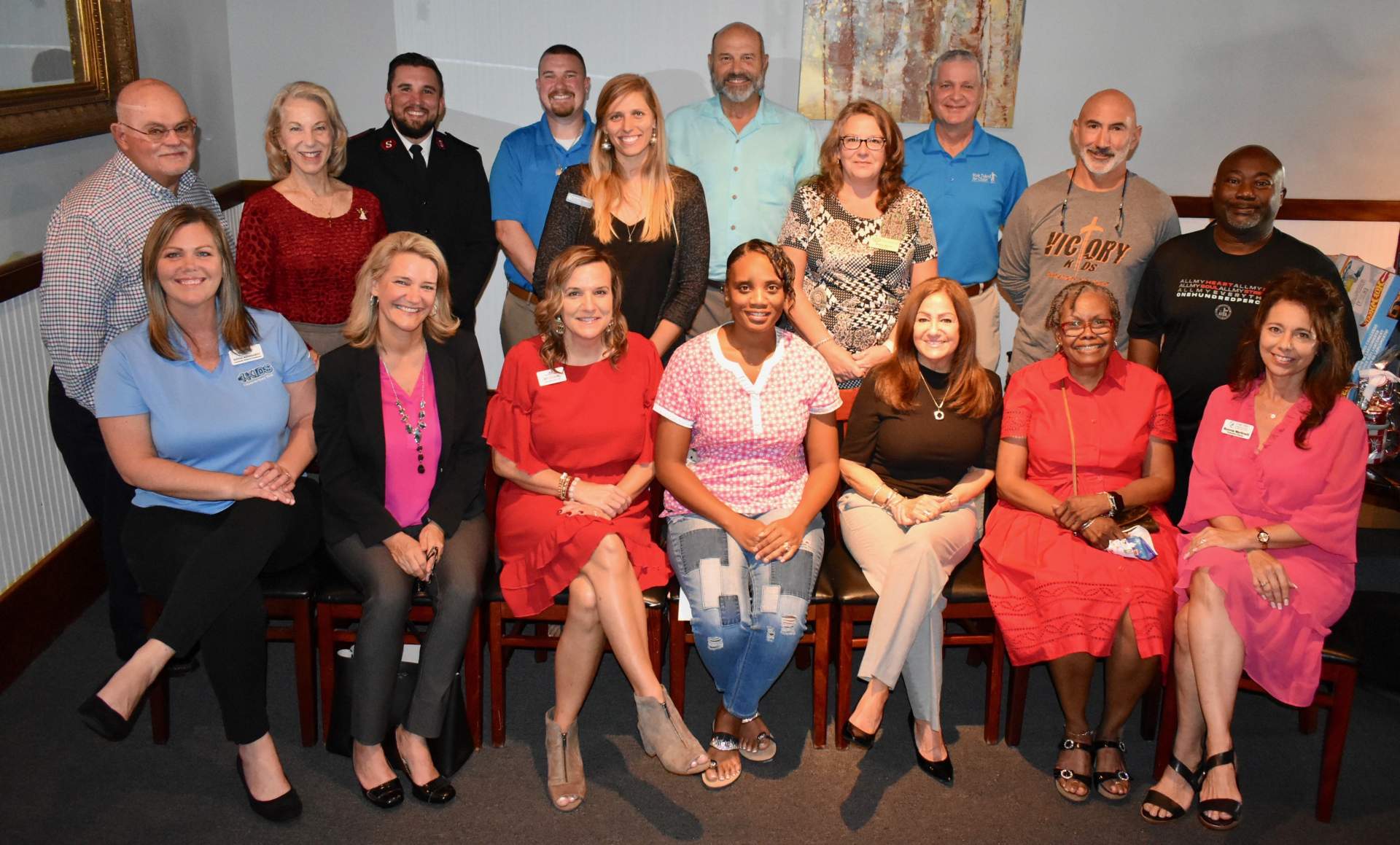 In addition to donating funds, VBCBA supports local ministries in other ways throughout the year:
RISK TAKERS FOR CHRIST
At our January 2022 luncheon, members donated bottles of water to benefit Risk Takers for Christ's Living H20 Initiative.
Pictured at right is VBCBA president Maureen Nicolace with Michael Kelley, Dale Glading and Chris Glading of Risk Takers for Christ.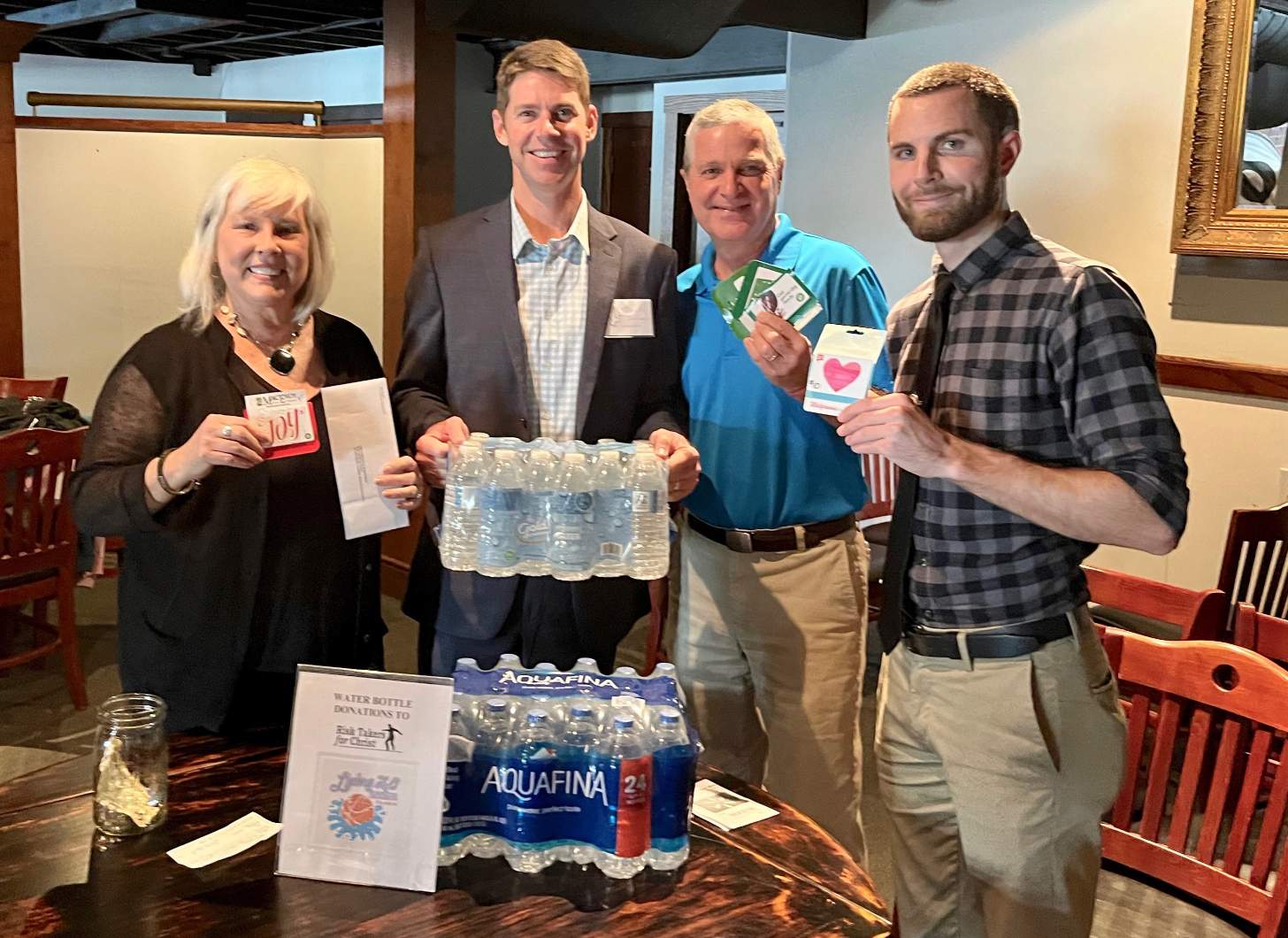 FEED THE LAMBS
At our December 2021 Celebration of Giving Luncheon, in addition to distributing money to local ministries, we conducted a toy and gift drive to benefit Feed the Lambs Enrichment Program.
Pictured at Right: representing Feed the Lambs are Pat Geyer Patton, Kenya May and Marc Richard, with VBCBA board member Mike Cianci.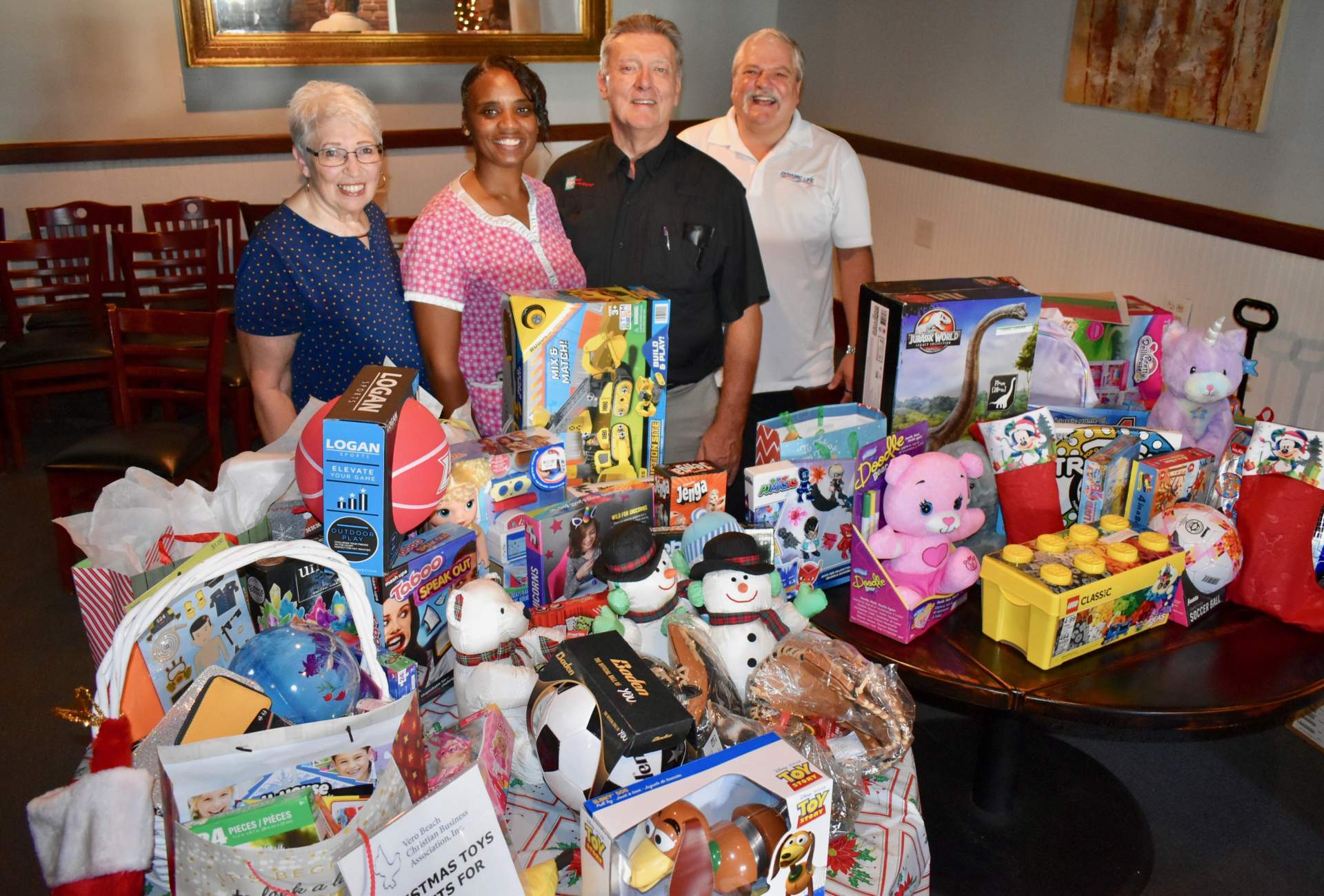 ST. VINCENT DE PAUL
In November 2021, VBCBA members donated nonperishable food to benefit St. Vincent de Paul's Emergency Food Pantry.
Pictured at Right: Jerry Rott of St. Vincent de Paul with VBCBA treasurer Danny Howes.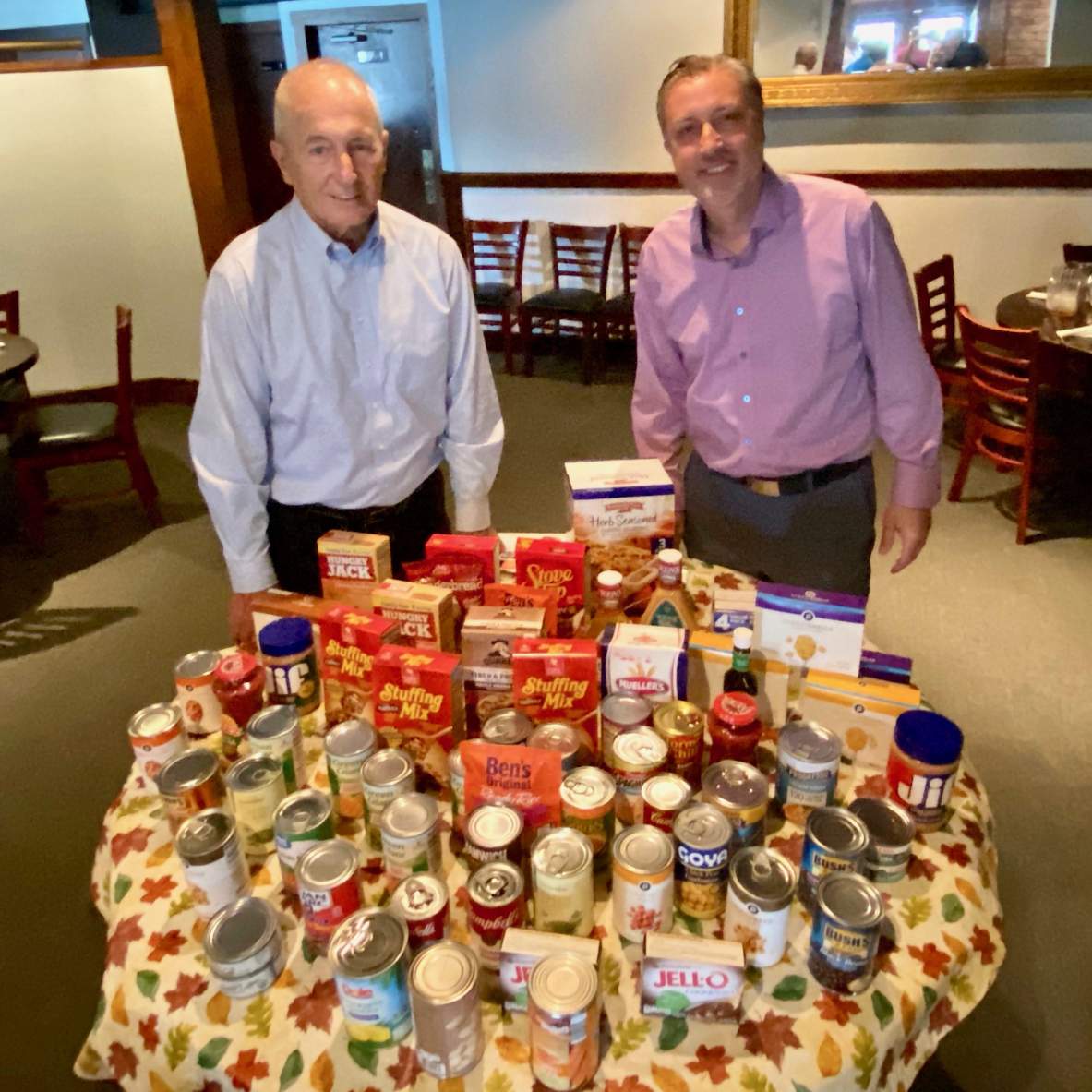 THE SALVATION ARMY
VBCBA collected school supplies during their July 2021 luncheon to benefit the families served by The Salvation Army. School supplies were also collected in August to benefit Care Net.
Pictured at Right: VBCBA president Maureen Nicolace with Tracey Soethe from The Salvation Army.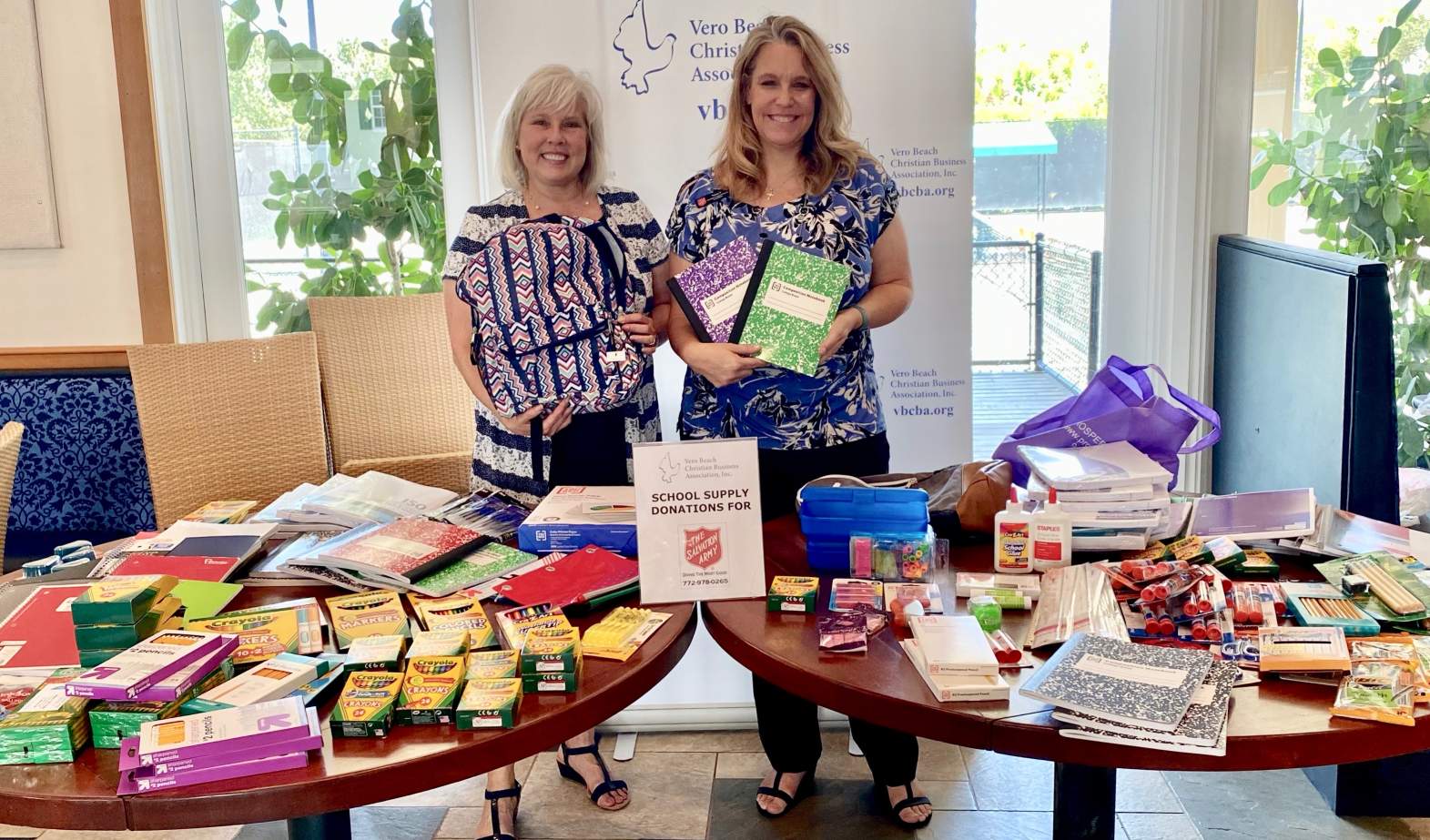 OUR FOUNDATIONAL SCRIPTURE FOR GIVING:
"But just as you excel in everything in faith, in speech, in knowledge, in complete earnestness and in your love for us, see that you also excel in this grace of giving. I am not commanding you, but I want to test the sincerity of your love by comparing it with the earnestness of others. For you know the grace of our Lord Jesus Christ, that though he was rich, yet for your sakes he became poor, so that you through his poverty might become rich. And here is my advice about what is best for you in this matter: Last year you were the first not only to give but also to have the desire to do so. Now finish the work, so that your eager willingness to do it may be matched by your completion of it, according to your means. For if the willingness is there, the gift is acceptable according to what one has, not according to what he does not have. Our desire is not that others might be relieved while you are hard pressed, but that there might be equality. At the present time your plenty will supply what they need, so that in turn their plenty will supply what you need. Then there will be equality. As it is written: "He who gathered much did not have too much, and he who gathered little did not have too little." 2 Corinthians 8: 7-15